Along with a house, and a baby cart – an engagement ring is one of the most significant purchases a couple will make in their entire lifetime. And actually, it all begins with the ring. A symbol of your love and commitment to each other, and one that should reflect your unique style and personalities.
So how to choose the right one? Let's go over the best diamond & ring styles nowadays. The one that will always make the heart skip one…
Rose Gold Oval Engagement Rings
First and foremost, we have the crown jewelry – the rose gold oval engagement ring. This stunning ring features a classic oval-shaped diamond in a warm, romantic rose gold setting. As we explained on our diamond clarity article, an oval cut is one of the two most sparkly diamond cuts. The oval cut elongates the finger, making it appear slimmer and more delicate. The rose gold metal adds a vintage touch and is perfect for those who love a feminine and romantic look.
Check out our Oval Styles Engagement Rings…
Oval Halo Engagement Rings on Finger
Along with the rose gold oval rings, we have the oval halo engagement rings. On a finger, these unique engagement rings combine two of the most popular engagement ring trends: rose gold and halo settings. The oval-shaped diamond is surrounded by a halo of smaller diamonds, giving it extra spark and depth. Even more than the oval cut alone!
The rose gold metal complements the warm tones of the diamonds and creates a cohesive, romantic look.
Rose Gold Oval Halo Engagement Rings
Rose gold oval halo engagement rings have become increasingly popular in recent years due to their vintage-inspired design. The oval-shaped center diamond is surrounded by a halo of smaller diamonds, creating a breathtaking display of sparkle from every looking angle. With the warm tone of rose gold metal, those rings are everything astonishing and romantic. Oval engagement rings rose gold are a perfect choice for those who want a classic and elegant design, but with a modern twist.
1.5 Oval Engagement Rings
A big part of those who are looking for and oval engagement ring goes for the 1.5 oval engagement ring. The oval cut with a 1.5 carat center diamond offers one of the best ratios for a center diamond to go along with a delicate and elegant band. Usually made with rose gold or added with a hidden halo, as we mentioned above. 1.5 oval engagement rings can be easily customised to fit any style of ring you desire. Just check our customization process and see for yourself.
Emerald Cut Hidden Halo Engagement Rings
Those who are looking for the elegance of a classic diamond along with passion and beauty, must have come across the emerald cut. An emerald cut is the big square diamond that everyone adores. The emerald cut diamond is a long, narrow shape and stepped facets that create a hall-of-mirrors effect. It has both an elegant geometric look and an curiosity-bringing feeling. The most know emerald cut diamond rings are the emerald cut engagement rings with hidden halo. Why is that? Because a hidden halo adds a layer of mystery and beauty, without being "too flashy". That gives the one wearing the ring both the elegancy and the class of a modern royalty.
Emerald Cut Engagement Rings with Side Stones
Right next to the emerald cut with hidden halo, we have the emerald cut engagement rings with side stones. These rings are known for their sleek and sophisticated look. The side stones can be set in various ways, including pave, channel, or prong setting – each offering a different look and level of security for the stones. Additionally, the side stones can either match or contrast with the center stone, adding a personal touch to the ring's design.
At the end of the day, emerald cut engagement rings with side stones are a secure pick. They will never lose their appeal.
Emerald Cut Diamond Engagement Rings with Baguettes
And of course, we have to mention the emerald cut diamond engagement rings with baguettes! The emerald cut with its never-ending beauty is just a heartbreaker when you add it with the baguette style diamonds. Baguette diamonds are long, rectangular shaped diamonds that are added as side stones to accentuate the center emerald cut diamond. The combination of the emerald cut diamond and the baguette diamonds' sleek and angular shape creates a stunning and sophisticated look. For anyone who appreciates clean lines and a minimalist aesthetic – this is a must!
This style is often set in a simple band, which further emphasizes the beauty of the stones.
Check out our Emerald Styles Engagement Rings…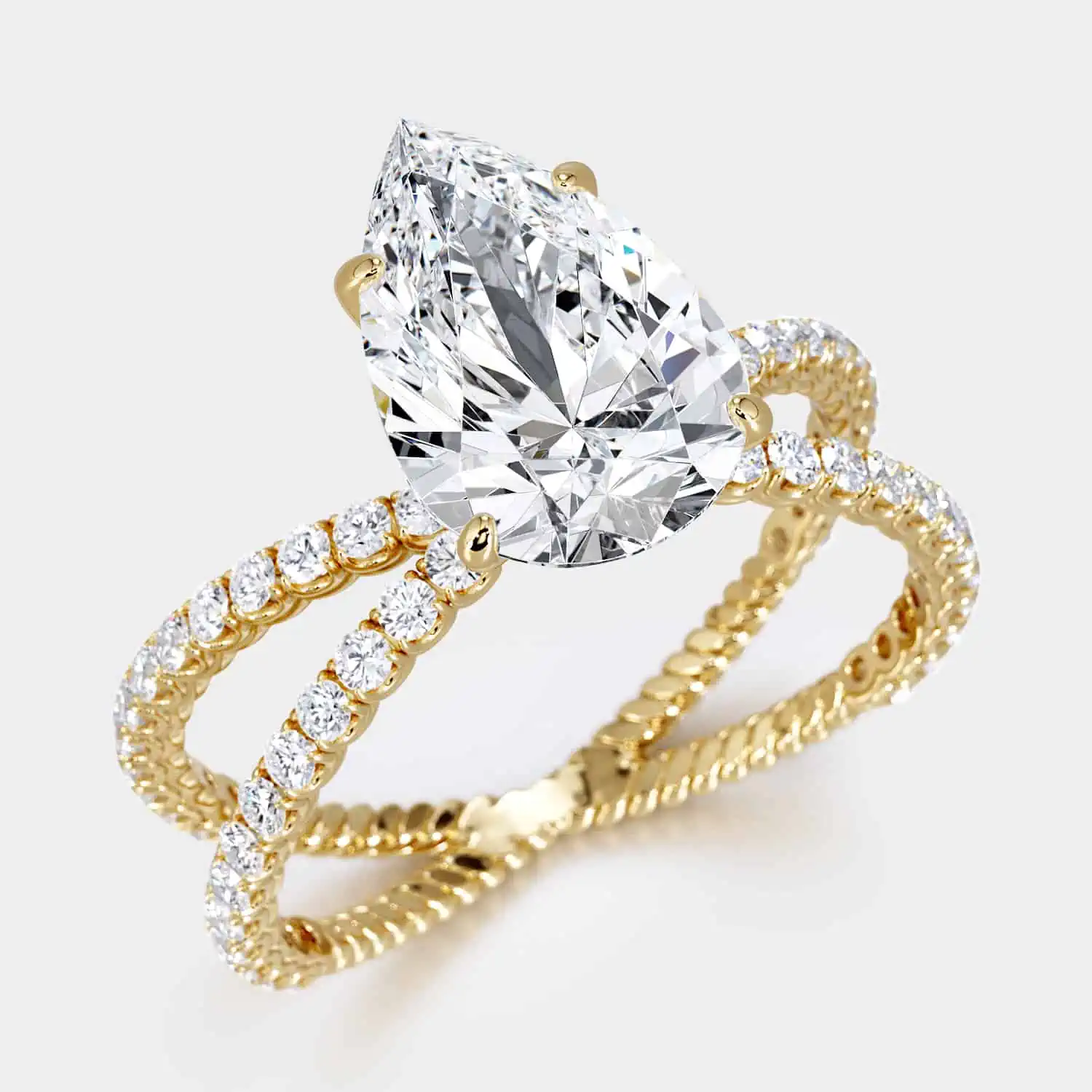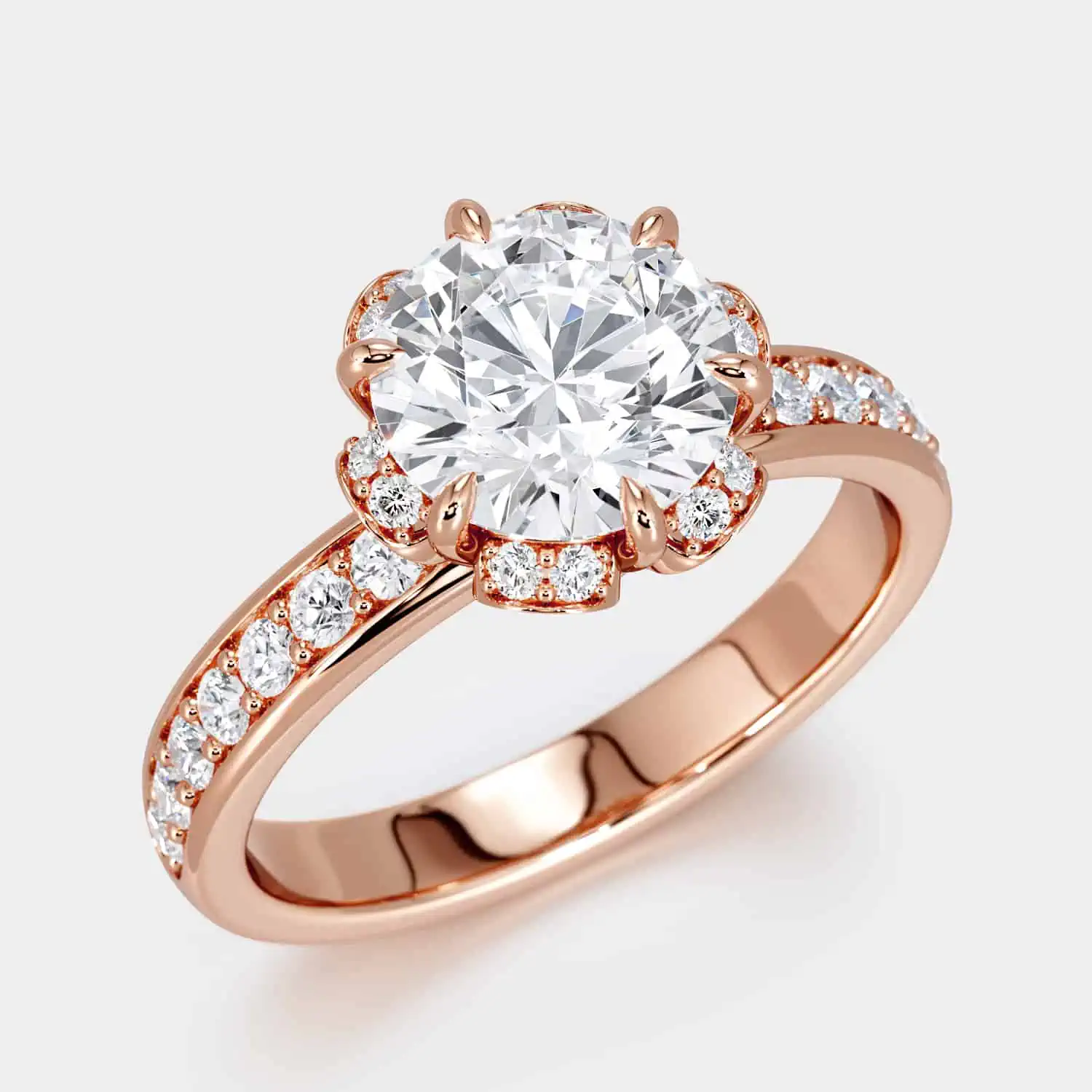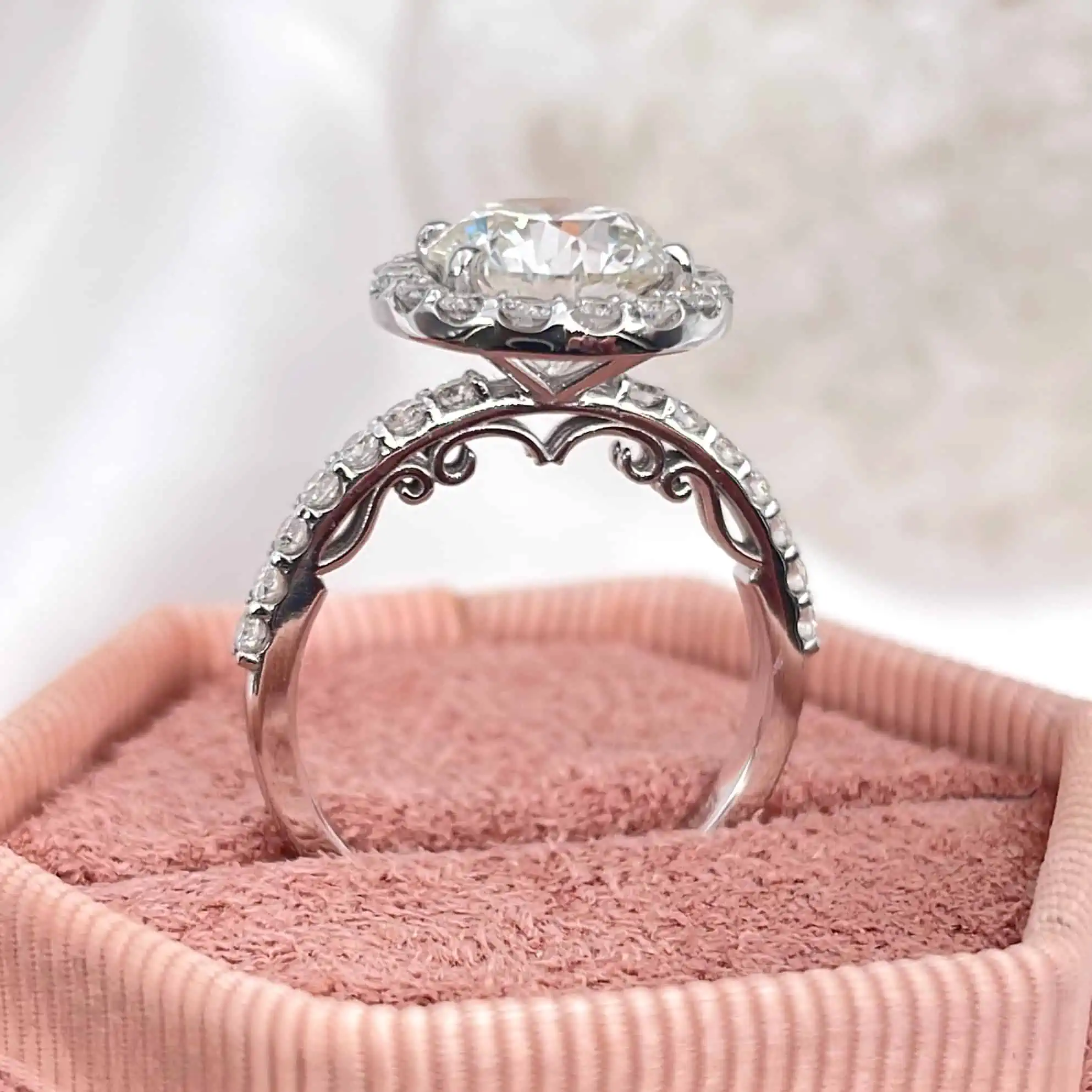 Engagement Rings Halo Vintage
As you probably know by now, vintage engagement rings are a timeless choice. Either for their unique and intricate designs or for their passing of any time-test, these are the rings everyone are after. These rings are often passed down from generation to generation, making them cherished family heirlooms
If you don't have a ring like that in your family, we can always make you one that looks like it is! Then, you can pass it from generation onward, forever.
Vintage engagement rings can vary in style, but they typically feature delicate filigree work, intricate engravings, and unique diamond or gemstone settings.
The beauty of vintage engagement rings lies in their rich history and the intricate craftsmanship, and therefore, you can use them to start your family's love-cycle.
Need a vintage one? We can make it from scratch, to fit your every desire…
Antique Halo Engagement Rings
Antique halo engagement rings are a beautiful pick those looking for a vintage-inspired engagement ring. These rings typically feature a center diamond surrounded by a halo of smaller diamonds or gemstones, creating a stunning and romantic look. What sets halo vintage engagement rings apart is their unique, intricate designs that were popular in eras past. These rings offer a truly one-of-a-kind look that is sure to impress and make any life partner feel special.
Geometric Engagement Rings
Next, we have geometric engagement rings. Understandably, geometric rings feature modern and edgy shapes, such as hexagons and triangles. As a result, they are getting really popular these days since they create a unique and eye-catching look, almost futuristic. The clean lines and bold shapes of these rings are perfect for those who want a more contemporary and fashion-forward style. Something that looks to the future and promises a timeless feeling.
Preset Engagement Rings
Unlike traditional engagement rings that are custom designed, preset rings come with a diamond or gemstone already mounted in a setting. This takes the pressure off the buyer to design the perfect ring and allows to focus on selecting a ring from a great catalogue. Preset engagement rings come in a variety of styles, diamond cuts, and metal types. Additionally, preset rings can often be purchased at a lower price point than custom-designed rings, making them a budget-friendly option for those looking for a beautiful and unique engagement ring!
Check out all our Preset Engagement Rings Catalogue…